Why Blog?
There are four distinct ways you can use blogs to build your small business:
It's an immediate publishing tool for product and service innovations. As Jeff Nolan, director of Apollo Strategy Group comments: "blogs solve the problem of getting quick-hitting content to people that need it. The blogs are not a replacement for our corporate portal, but an addition to it."
It a fast and easy way to communicate with employees or clients. Groups can easily interact on projects from all corners of the globe to share ideas and keep updated.
It's an affordable marketing tool. It's easy to create a dialogue with your customers on your blog, to build lasting relationships. Search engines love this kind of blog content. You can easily boost your page rankings.
It's easy to start and maintain. A blog is a powerful, cost-effective alternative to a website or email newsletter. You don't need an IT staff to start a blog. Updating a blog is simpler than sending an email.
TOP Business Blogs
Need to see some business blogs in action? Check out the following links to top business blogs on the Web:
TOP Blogging Solutions
There are two leading blogging applications on the market today: Moveable Type and WordPress. Each can host your business blog on their servers OR provide you the software to host your own blog yourself.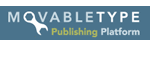 Moveable Type
Moveable Type by Six Apart Ltd. is easily the most popular commercial blogging platform for small business owners, independent professionals, and Fortune 500 companies. It has robust features already built in, plus hundreds of available plug-ins. Can enable thousands of blogs on one easy install. According to Six Apart, more of the Technorati Top 100 most popular blogs on the Web run on Six Apart platforms than on all other software combined. Also offers fully hosted solutions for businesses using the TypePad Business Class platform for high-traffic and high-profile sites.

WordPress
WordPress is a state-of-the-art FREE personal blogging platform with a focus on aesthetics, web standards, and usability. It is standards-compliant, fast, light, with sensible default settings and features, and an extremely customizable core. You can set it up on your own web host in less than ten minutes to get the most flexibility (PHP and MySQL needed) or have WordPress host it for you. WordPress currently hosts over 600,000 blogs and counting. If you want to see a WordPress Blog in action, check out EFASP.org: The Entrepreneurs for a Sustainable Planet Blog.
Website Hosting Solutions for Your Small Business
Need a website hosting service for your small business? Try The Hosting Chart for top ten hosting solutions or TopHost.com, the longest running hosting resource on the web. Also try the following sites with packages targeted for small business owners:
Netfirms
BusinessWeek has rated Netfirms "One of the best values on the web for small business."
Yahoo Small Business
Has helpful website building tools, virtually unlimited databases, advanced anti-spam software for email, and 24-hour support. PC Magazine says Yahoo offers "exceptional ease of use" (March 25, 2003).
Apollohosting.com
Top ranked hosting solution with multiple websites on a single account, unlimited database, dedicated servers.
HostMySite
Top ranked hosting solution that offers, credit card processing, private virtual servers, and dedicated hosting solutions for maximum customization and control.
Hostway
Top ranked hosting solution. Offers some of the best value packages.
TOP Hosting Solutions
Godaddy.com and Aplus.net offer some of the most comprehensive small business hosting solutions on the Web with plenty of Web tools and value-added services.

Aplus.net
Aplus specializes in meeting the needs of small business. At Aplus you can get over 170 GB storage, 3300 email accounts, and 2000 GB of transfer for less than $20 per month. Check out and compare the plans offered. You can also get:
Aplus.net has been featured in Forbes and is a CNET editor's choice for six years in a row. Aplus has also been ranked in the top 5 at Tophosts for more than four years in a row.

Go Daddy
Go Daddy offers a variety of value-added services to make it easy to set up your small business website. It has extensive e-commerce solutions as well as dedicated and virtual servers. At Go Daddy you also pay less for domain names. It is currently the largest domain name service in the world. Go Daddy is a fully accredited ICANN registrar.